Breakfast Room
Enjoy our comprehensive breakfast with fresh rolls and fruit salad in our cosy Bistro, stylishly served at table with English silver and fine Limoges porcelain. We are happy to prepare your eggs according to choice. Do things at your leisure and take time out to indulge yourself and get the day off to a good start. Breakfast is served between 7.00 and 9.30 am Monday to Friday and between 8.00 and 10.00 am at weekends and on public holidays. It goes without saying we take any dietary requirements into account. Just let us know!
Fireside Lounge
Relax in the evening in our cosy fireside lounge with library and help yourself from the mini bar, which we have stocked with wine, beer and soft drinks. Just make a note on the pad provided. The library is at your disposal and, if you wish to finish reading a book at home, feel free to take it with you and return it at your convenience - or leave another book in its place.
WLAN/Wi-Fi
Wi-Fi throughout the hotel and a small espresso machine in each room are available at no extra cost.
Children
Children are welcome. We are happy to provide a cot in your room. Overnight stays for children up to 2 years old are free. We regret, though, that pets must stay at home!
Cyclists
Cyclists are especially welcome. You can leave your bike in a lockable garage which is equipped with tools and electricity. We are happy to advise on bike rental and any relevant brochures and leaflets. We are members of "Bed & Bike".
Parking
You can leave your car in one of our hotel garages for a daily charge of 10 Euros. A public carpark (with tickets) can be found in the immediate vicinity.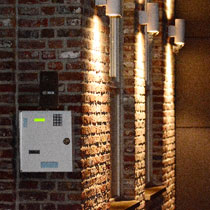 Late Arrival Access
Should you arrive outwith our normal Reception hours (daily between 7.00 and 10.00 am and 5.00 and 7.00 pm) we have a Digi-Box for your use. Please let us know beforehand and we will give you a personal code which can be used at a time to suit you.
Gift Vouchers
Why not give a gift of an overnight stay in our charming hotel? Just ask and we will be pleased to issue a personal Gift Voucher for you.
Preserves
Our unusual fruit preserves, which come from the "Biologisches Zentrum", are all homemade and are available for purchase.